Thinking About using Roof Coatings? Insider Tips from the Pros #RoofCoatings #RoofLeak #RoofArmour
Click To Tweet
What Kind of Roofs Can be Coated?
Almost all types of roofs can be coated. These include; metal, spray polyurethane, single-ply, modified bitumen, Built-up roof (BUR) systems, EPDM, TPO, wood, ect. Without extra preparation, gravel surfaced membranes are not typically acceptable roof surfaces for coating membranes.
Will a coating extend the life of my roof?

Yes. The coating becomes the first layer of UV and waterproofing protection for the roof, and helps reduce expansion and contraction (thermal shock) of the roof. Reflective coatings also can reduce heat energy costs and improve the aesthetics of the roof.
Do I need a contractor, or can I do it myself?
Some of Roof Armour's Coating can only be applied by an certified Roof Armour applicator, however Roof Armour also offers DIY kits (link to page) for smaller projects such as RV'S and Horse trailers. A pre-installation consultation is highly recommended if there are such issues as existing leaks, wet insulation, damaged deck, or manufacturers' warranties.
How is the coating applied?
The DIY Kits can be applied using a roller and/or brush. Roof Armour uses a high powered spray unit to ensure uniform coating coverage.
Do I need a primer?
A primer is no substitute for thorough cleaning, which is mandatory. During the prep phase, Roof Armour recommends and uses a surfactant and a pressure washer or steam unit. Depending on the substrate and coating used, a primer may be required. Primers are useful for etching (metal) as well, sealing tar resin bleed out (tar patches/asphalt/BUR), most importantly primers improve adhesion (mandatory for EPDM and TPO)
Will the coating stop my leaks?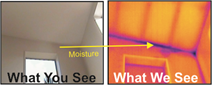 While coatings may potentially stop minor leaks, the roof should be properly repaired and dry prior to coating application. If the roof is actively leaking, Roof Armour will perform an infrared leak detection inspection to identify the issue and repair prior coating installation. The coating itself will not "find and seal" the leaks larger than 1/16".
Should I coat a new roof or nearly new roof?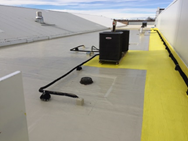 Yes, new roof can and should be coated if the building owner wants a highly reflective roof coating to reduce energy costs, and peace of mind against future leaking issues. Roof Armour Coatings will also extend the roof's service life. Reflective roof coatings can reduce the heat load on the roofing assembly and save on wear and tear from over used roof top HVAC units.
Are there any warranties available?
Yes. Roof Armour offers a peace of mind package called our "Renewable Lifetime Warranty Service Package" to protect your "forever roof" with annual or bi-annual cleaning and inspections, and when required, minor touch up repairs, on visible areas of weaknesses.
How long will the coating last?
Based on long-term histories, typically the roof life of a properly applied roof coating can last 10-20+ years. Performance can vary depending on coating type roof and weather conditions, as well as the coating film thickness at time of application. The thicker the coating, the longer is lasts.
Can the roof be recoated in the future?
Absolutely, in fact we recommend it. As sand and debris fly through the air, the coating will eventually wear away. Full coating renewals may be suggested after 10-20 years, depending on location, roof type and weather conditions. Roof Armours coating systems are renewable upon re-application. For ultimate "peace of mind", we also offer a Renewable Lifetime Warranty Service Package to protect your "forever roof".
Can a coating stand up in ponding water conditions?
All roofs should be designed and built to have positive drainage and not allow long term ponding water. Roof Armours Flat Roof Coating is designed specifically for ponding water situations; however, our coatings designed for sloped roofs will not withstand these conditions over a long period of time. We would suggest discussing these concerns with your Roof Armour representative.
In what weather conditions can the coating be applied?
For water borne coatings, the ambient air temperature should be 50oF (10oC) and rising, with no rain for the next 24 hours. Solvent borne coatings can be applied in cool and humid weather, as it is a moisture-cure product.
How long does the coating take to dry/cure?
That depends on many factors: air temperature, wind, roof surface temperature, relative humidity (water borne coatings) coating color and the type of coating applied. For example, Roof Armours Flat Roof Coating is moisture cured and thus humidity assists in its curing process.
Can I coat a rusted metal roof?

Rusted metal roofs can be coated after the rust and corrosion have been addressed. If the roof is "white rust" (zinc or aluminum) it can be coated after cleaning. If the roof is "red rust" the rust must be removed or treated with a corrosion inhibiting primer. All rusted fasteners should also be treated or replaced.
How do I maintain the coating?
It is recommended that the roof, including the coating, be inspected annually and after a major storm or high wind "event". Additional coating may need to be applied to repair damage to the coating and underlying roofing substrate, depending on nature of force the roof coating endeavored from flying debris. Roof Armours Renewable Warranty Maintenance Service Package will conduct these inspections and repairs, to ensure your roof lasts longer than you do.
What are Solar Reflectance and Thermal Emittance?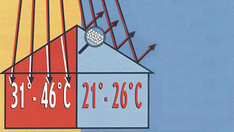 Solar Reflectance is a measure of the ability of a material (roof coating) to reflect the sun's radiation. Thermal Emittance is a measure of the material (roof coating) to release trapped heat back into the atmosphere.
Is there a tax advantage or rebate program available?
Some provinces/states, and utilities have specific programs, these change frequently. Its best to research programs in your region to pre-qualify before purchase if they are available.  As an added bonus, Roof coatings are typically classified as maintenance and in many cases can be written off as such in the same calendar year in which the coating application is completed compared to traditional re-roofing which is amortized over future years. It is best to check with your CFO or accountant for specific details on roof maintenance tax deductions for your situation.
What is ENERGY STAR?
ENERGY STAR is a US Government sponsored program encouraging the use of energy efficient products. Roofing materials including coatings can qualify for ENERGY STAR if the coating meets specific solar reflectance minimum criteria.
What are the building code requirements for roof coatings?
This depends on the local, province/state, and federal code enforcement requirements that have jurisdiction in your area. The International Code Council (ICC) provides detailed information on the status of I-Code adoption throughout the United States. In Canada, they are now recommending specific coating applications be performed at the time of large commercial roof installation.
Adapted from www.roofcoatings.org