Maximize Farm Profits with Roof/Bin Coatings
Farmer/Producers will enjoy more profitability with lower costs, less down time, and more productivity by using Roof Armours reflective and insulating roof coatings. Find out how much you can save at …
Heat Stress Affects Production in Animals

Typical conditions leading to heat stress occur when temperatures are 25 C (77 F) or above.
Farmers may not realize how much improvement in productivity is possible. Nor do they realise that all birds and animals have a zone of comfort where they are most productive.
Cool Roofs Lower Ventilation Requirements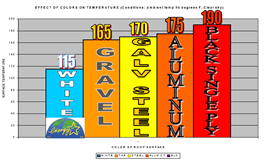 Correct and accurate temperature inside barns and stables are essential in maintaining optimal animal welfare.
Roof Armours system can lower roof temperatures as much as 42 degrees C (or 75 F). This translates into cooler interior temperatures and increasd farm profits.
Temperature affects Grain/Potatoes quality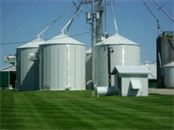 The primary aim of storage is to prevent deterioration of the quality of product.
Cool storage extends grain and food storage time. It maintains qualities and protects against infestation.
Roof Armour's Sealant and Restoration Coatings provide outstanding Leak, Water-proofing, Hail, Wind and UV protection. Our system will insulate and lower internal temperatures of your Barn or Bin structure.
A Reliable system
Our 3 Step restoration process uses 40+ year old technology to seal leaks and resist environmental elements, and rejuvenate the protective barrier.
Roof Armour's 3 System delivers
An Immediate Solution
More Affordable than Re-roofing
Does not require disruptive Tear-Off
Extends existing roof life
Leak Free Peace of Mind
Energy Savings (cooler in summer, warmer in winter)
Ultimate Wind, Hail, Fire, and Waterproofing System
Minimal application disturbance to Occupants
Environmentally Friendly Application
Enhanced Appearance and Curb Appeal
Lifetime Renewable Warranty Available