Flat Roofs
Roof Armour Flat Roof Repairs and Restoration
Roll Roofing, Tar & Gravel, EPDM and PVC Roofs are designed for varying levels of longevity, however some maintenance is still required to make them last.
Roof Armour's Sealant and Restoration Coatings can protect your flat roof from developing common issues such as: Alligatoring, Curls, Blisters, Ponding, and Cracks.
Our premium roof coatings provide outstanding Leak, Water-proofing, Hail, Wind and UV protection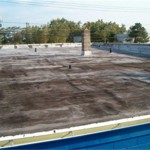 Our 3 Step restoration process uses 40+ year old technology to seal leaks and resist environmental elements, and rejuvenate the protective barrier.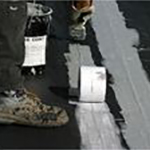 Roof Armour's Seam Sealer is formulated to provide a tough but flexible film for sealing and leak-proofing seams, side walls and penetrations.
Roof Armour roofing crews are experienced with all sizes of Roll roofing, Tar & Gravel, EPDM and PVC Roof Restoration projects including; Industrial, Farm and Residential.
Roof Armour's 3 Step Flat Roof Restoration System delivers
An Immediate Solution
More Affordable than Re-roofing
Does not require Tear-Off
Extends existing roof life
Leak Free Peace of Mind
Energy Savings (cooler in summer, warmer in winter)
Ultimate Wind, Hail, Fire, and Waterproofing System
Minimal application disturbance to Occupants
Environmentally Friendly Application
Enhanced Appearance and Curb Appeal
Lifetime Renewable Warranty Available